Drupal CMS Development Services
Drupal CMS Development

by Tecizeverything
Specialized in Drupal CMS Development Services, Tecizeverything stands out as the best CMS development company in New York. Our best Drupal development company excels in creating responsive, bespoke, and visionary systems that transform your digital visions into reality.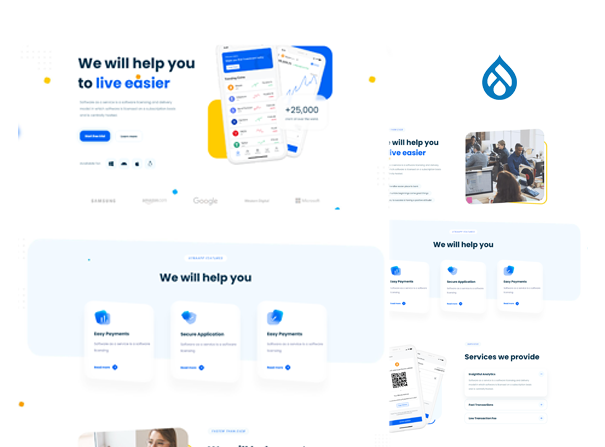 Unparalleled Expertise in
Drupal Development
Our seasoned Drupal experts at Tecizeverything craft highly customized Drupal CMS solutions optimized for an array of industries to take your online presence to the next level. Our mastery of Drupal delivers sophisticated functionality and high-performing platforms that engage your audience and outpace competitors.
Pioneering the
Digital Frontier
Our proficient Drupal development company in New York works on the cutting edge of technology, innovating and implementing advanced Drupal frameworks. Combining flexibility, aesthetic appeal, rigorous security, and stellar performance, we design Drupal platforms to captivate your specific audience.
Drupal CMS

Wide-Ranging Capabilities
Drupal features a flexible, modular architecture that allows developers to extend its core capabilities by creating custom modules. This modular design enables highly customized solutions that leverage Drupal's strengths while adding any specialized functionality a project requires.
As an open-source software, Drupal benefits from constant innovation and contribution from developers across the world. This global community collaboration enables Drupal to continuously evolve with new features and improvements. The open-source model results in robust security, high performance, and lower costs compared to proprietary CMS options.
Enterprise-Ready Capabilities
Drupal provides enterprise-level capabilities out-of-the-box including scalability, security, multisite management, workflow control, and headless APIs. Its flexible data model and ecosystem of contributed modules make Drupal a highly powerful and extensible CMS suitable for the most demanding corporate websites and applications.
Our Top-Notch
Drupal CMS Development

Services
1. Drupal Website Design & Development:
Engage with our Drupal Website Design & Development services. Our innovative team crafts user-centric websites on the Drupal platform, prioritizing flexibility, creativity, and meaningful user interactions for exceptional online experiences
2. Custom Drupal Solutions:
Our professional Drupal development agency leverages the deep Drupal expertise to create tailored modules and develop customized functionalities designed specifically to integrate seamlessly with your unique workflows, processes, and evolving business needs.
3. Drupal E-commerce Integrations:
Trust the Drupal experts at Tecizeverything to seamlessly integrate robust, enterprise-level e-commerce capabilities that make the most of Drupal's powerful features to build an online store that boosts your sales and income.
4. Performance Optimization Service:
To guarantee lightning-fast load times and faultless responsiveness, Tecizeverything's performance optimization service fine-tunes Drupal sites throughout the frontend, backend, infrastructure, and code.
5. Fortified Drupal Security:
Tecizeverything implements the most rigorous Drupal security best practices and protocols to protect your platform, ensuring compliance, defense from threats, and complete peace of mind.
Through semantic optimizations, Tecizeverything creates and implements targeted SEO strategies that are optimized for Drupal to improve your site's exposure and search engine rankings.
Drupal Experts

Focused on Your Success
Tecizeverything has the technical prowess to build innovative Drupal solutions scaled to your goals. We combine strategy and creativity to produce digital experiences that engage your audience and deliver measurable results. We leverage Drupal's open-source flexibility to future-proof your brand, while ensuring a smooth user experience.
Tecizeverything's Customized
Drupal CMS Solutions
1. For B2B Organizations:
Implement an optimized Drupal CMS platform designed to strengthen partner and customer relationships by providing access to documentation, assets, support resources, and enabling seamless cross-system integrations to deliver more overall value.
Leverage our specialized drupal CMS Development expertise to architect robust community platforms complete with member profiles, forums, groups, premium content access, and gamification to actively engage users and cultivate loyalty within your audience base.
Achieve sales goals by implementing our headless drupal CMS solutions focused on delivering consistent, immersive shopping experiences across devices while integrating merchandising personalization and harnessing customer data.
4. For Educational Institutions:
Effortlessly navigate intricate digital learning landscapes with our advanced solutions. We specialize in creating versatile Drupal CMS systems tailored for education. Seamlessly manage intricate content workflows and fine-tuned access controls. Foster flawless collaboration among contributors, enhancing the educational experience.
Accelerate your journey with our tailored CMS solutions. Our specialized services enable you to swiftly establish a robust content management foundation. This empowers you to channel your energies into perfecting your core product, confident in the knowledge that we adeptly manage your digital infrastructure requirements.
Manage large multimedia libraries, enable advanced workflows, and create engaging front-end experiences through our CMS solutions tailored for media organizations needing to publish frequently.
How We Help
Companies Grow
At Tecizeverything, we specialize in leveraging the power of Drupal CMS to drive business growth for our clients. We help companies grow by crafting Drupal solutions that create seamless user experiences, reinforce brand identity through customized designs, and drive business results by converting visitors into customers.
Frequently Asked Questions
Yes, Drupal's extensive API support enables seamless integration with various CRM systems, social media platforms, and other business tools, enhancing functionality and workflow efficiency.
Yes, Drupal's intuitive content management interface allows non-technical users to easily update and manage content, making ongoing maintenance straightforward.
Absolutely, Drupal's scalability and diverse features make it an excellent choice for businesses of all sizes, including small enterprises and startups.
We required a powerful CRM system to centralize all of our customer information and standardize all of our business processes as we expanded. Tecizeverything CRM developers blew us away with their work. They created a CRM system from the ground up to meet our specific requirements as a company.
Tecizeverything has been crucial to modernizing our web presence and propelling our company forward. Their digital advertising approaches are original and highly efficient. They care about our company's success and work hard to learn about our needs.
I highly suggest Teciz everything's search engine optimization service. In a few of months, they were able to boost my website's visibility on search engines. Their staff has extensive understanding and stays current with SEO developments.
We're committed to staying prior and curve and we're fulfilling and developing new skills, and trends techniques to ensure amazing results for our clients.
Our highly skilled team accelerates innovation and creates new revenue streams, through our unique engagement method, you'll be informed at every step of the way.
We work at the highest standards to deliver the best results and create technology-backed business solutions for clients ensuring that they get the maximum value from their investment.