Full Stack Web Development Services
Welcome to Teciz Everything Your
Premier Full-Stack Web Development

Experts!
If you're searching for exceptional full-stack web development services to enhance your online presence, look no further than TecizEverything.
At Teciz Everything, we understand the importance of a powerful online presence in today's digital landscape. Our team of dedicated full stack developers creates cutting-edge web solutions that elevate your brand and deliver an exceptional user experience.
We Provide Broad
Full Stack Web Development

Services
1. Flexible Web Application Development:
Our custom web application development team offers the flexibility to incorporate specific features, integrate with existing systems, and evolve alongside the client's business, ultimately delivering a truly personalized solution that meets and exceeds expectations.
Our team of experts provides comprehensive Front end experience for your business. They can create visually appealing and user-friendly interfaces that enhance engagement, improve usability, and drive a positive user experience. Focusing on user experience (UX), frontend developers create intuitive interfaces and responsive web designs with cross-browser compatibility and easy to navigate and understand.
At Tecizeverything, we prioritize Designing Powerful Server-Side Logic and Database Management for optimum functionality and performance of web applications. It involves everything from handling server-side logic, database management, API development, and security considerations; to ensuring a coherent system.
4. Careful planning and Analysis:
Our full-stack web development services encompass the entire spectrum of web development, ensuring a comprehensive approach to building your online presence. From conceptualization and design to development, deployment, and ongoing maintenance, we handle every aspect of your project with the utmost professionalism and expertise.
5. Commitment to customization:
We understand that each business is unique, and off-the-shelf solutions may only sometimes suffice. That's why we give importance to personalizing every project, working side by side with you to understand your specific requirements and delivering tailor-made solutions that exceed your expectations.
The
Full Stack Web Development Process

: From Concept to Deployment
Our Developing team of full stack websites involves a systematic process encompassing various stages, from conceptualization to launch. This section outlines the general steps of the full stack web development process.
1. Requirement Gathering and Analysis:
The first step in the full stack web development process is to gather and analyze the project requirements. Our team gets involved in understanding the client's objectives, target audience, desired features, and functionality. Clear communication and collaboration between the client and the development team are crucial to ensure a comprehensive understanding of the project's scope.
Once the requirements are gathered, the planning and design team begins. The full stack development team creates a roadmap and defines the project's architecture, technology stack, and database structure. (UX) and (UI) design are also considered during this stage. Wireframes and prototypes may be created to visualize the layout and functionality of the website.
Once the development and testing phases are complete, the website is prepared for deployment and function in a live environment.
Frontend development focuses on implementing the UI/UX design and creating the user-facing components of the website. Full-stack developers utilize frontend technologies like HTML, CSS, JavaScript, and frameworks like React, Angular, or Vue.js to build responsive and interactive interfaces. They ensure the website is visually appealing, intuitive to navigate, and optimized for different devices and screen sizes.
The backend development team involves building the server-side components that power the website. Full-stack developers use backend technologies to handle server configuration, database management, and business logic implementation. They create APIs (Application Programming Interfaces) that enable communication between the frontend and backend systems. Security measures, such as implementing user authentication and authorization, are also addressed during this stage.
The full stack development team integrates the database into the backend system at this stage. The team designed and implemented the database structure, considering factors such as data relationships, performance optimization, and data security.
6. Testing and Quality Assurance:
At this stage, the team validates the website's functionality, performance, and compatibility across different browsers, devices, and operating systems. Any identified issues are addressed and resolved during this stage.
7. Deployment and Launch:
Once the development and testing phases are complete, the website is prepared for deployment and function in a live environment.
8. Maintenance and Updates:
Websites require ongoing maintenance to remain secure, performant, and up-to-date. The full stack development team provides support and maintenance services, addressing issues, implementing updates, and incorporating new features. Regular backups, security monitoring, and performance optimization are part of the maintenance process to ensure the website's long-term success.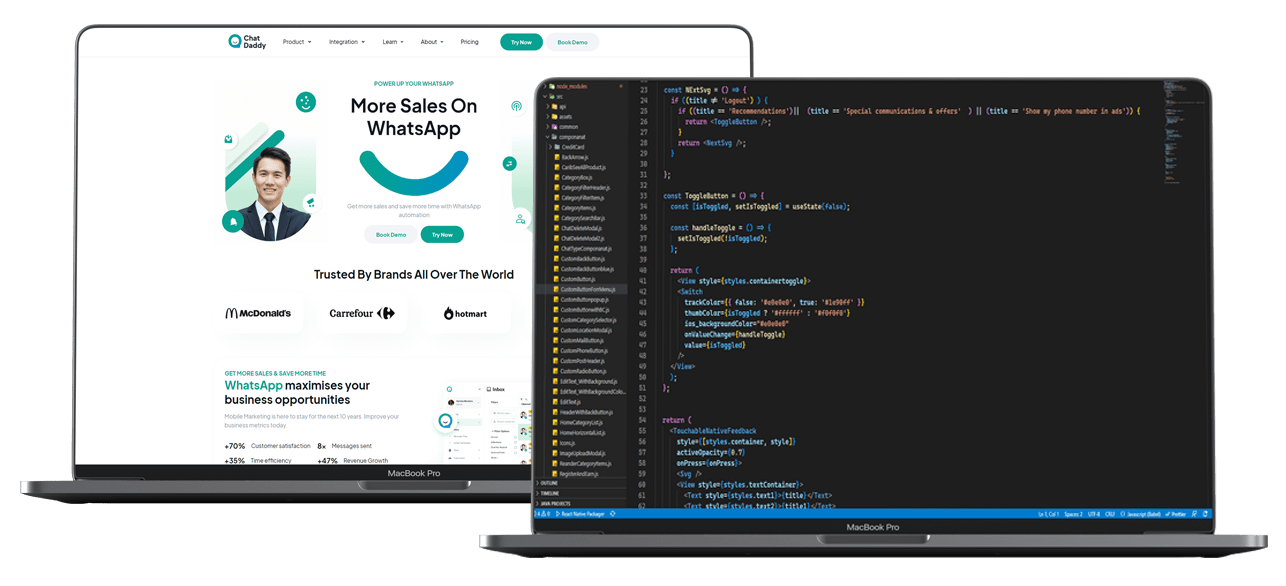 Hire our
Full Stack Web Development

team to achieve the following

benefits:
With our expertise in iOS app development, we can create a wide range of iOS applications, including:
We create end-to-end web solutions tailored to your business needs.
 Our experienced developers apply the latest technologies and best practices.
Seamless user experience: We prioritize user-friendly designs to ensure a smooth and engaging experience for your visitors.
Scalability and flexibility:
Our solutions are designed to grow with your business and adapt to changing needs. Timely delivery: We acknowledge the importance of deadlines and strive to deliver projects on time.
We provide complete maintenance and support services to ensure your website remains secure and up-to-date.
Get In Touch And Engage Our Expert Team Of
Full Stack Development

Professionals.
Our team of MEAN developers have extensive knowledge of different industries and strive for greatness by being up to date. Reach out to us for a free consultation and see your business grow through our carefully designed state-of-the-art system solutions.
We're committed to staying prior and curve and we're fulfilling and developing new skills, and trends techniques to ensure amazing results for our clients.
Our highly skilled team accelerates innovation and creates new revenue streams, through our unique engagement method, you'll be informed at every step of the way.
We work at the highest standards to deliver the best results and create technology-backed business solutions for clients ensuring that they get the maximum value from their investment.