Facebook Digital Marketing Services
Facebook Digital Marketing Services

by Tecizeverything
Tecizeverything is proud to be the best Facebook digital marketing service in New York. We build campaigns that connect and put your business at the center of relevant online conversations by understanding how Facebook's users change over time.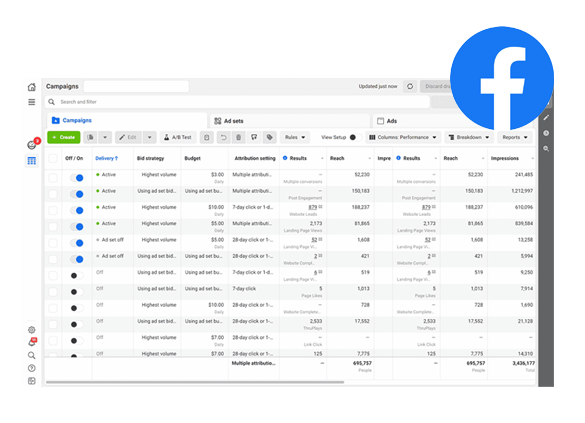 Offering Specialized Marketing Solutions for
Facebook
Meaningful social connections have become essential in the digital age. As leading New York Facebook digital marketing agency, Tecizeverything is proud. Understanding Facebook's dynamic user base, we create campaigns that connect and place your business at the center of relevant online conversations.
Amplifying Your Brand's Voice on
Facebook
A well-designed Facebook ad or post can shift brand perceptions quickly. As New York's leading digital marketing agency, Tecizeverything utilizes such capability. We make sure your business is apparent and remembered by creating content that complements your audience's pulse.
Why Choose our
Facebook Marketing

Services
Advanced Ad Targeting Capabilities
One of Facebook's standout features is its sophisticated ad targeting. From demographics to interests and behaviors, granularity allows for precision like no other. With our expertise, we leverage these tools to ensure your ads reach the most receptive audiences, maximizing campaign effectiveness.
Adaptive Marketing Solutions
The online world, and particularly social media sites like Facebook, are always developing and changing. Our expert marketers stays on top of trends, algorithm shifts, and user behavior to keep your brand relevant and engaging.
Creative Content Craftsmanship
Content is king, especially on Facebook. Our creative team is adept at designing content – from captivating posts to engaging ads – that not only looks good but also drives your brand's message home, ensuring lasting impressions.
Our Core Approaches for
Facebook Marketing Excellence
1. Facebook Page Management:
Tecizeverything believes your Facebook page illustrates your brand. Our expert marketers create a community and encourage active interaction in a setting that reflects your business. Our attributes are timely updates, real voice, and rapid reactions.
With Facebook's vast ad personalization capabilities, we create campaigns for your target audience. Our ad strategies prioritize resonance, aiming for both mindshare and market share which helps in Brighter brand visibility and greater ROI.
Content is interaction and not just information. Our content experts inspire, inform, and engage. With Tecizeverything, every post share knowledge, engaging audiences.
4. Facebook Stories & Reels Creation:
Tecizeverything acknowledges Facebook's growing short-form content popularity.  We craft compelling Stories and Reels that align with your brand message, offering interesting and engaging brief content.
5. Facebook SEO Optimization:
Our experts optimize Facebook posts and information to boost search rankings. This makes your brand the first stop for targeted users looking for services or products.
6. Community Building & Group Management:
Facebook Groups have emerged as valuable community hubs. We create and manage branded Facebook Groups for fans and consumers to interact, provide feedback, and build brand communities.
Brand Empowerment through
Facebook Marketing
By utilizing Facebook's massive user base, Tecizeverything create ads that connect and convince people to buy, turning clicks into conversions. This expertise has further strengthened our role as the best Facebook digital marketing agency in New York.
Our Pivotal Strategies for
Facebook Marketing
We use Affinity Analysis to understand your audience's interests and associations beyond demographics. We can create personalized ads by understanding what consumers prefer and think about.
2. Deep Dives with Facebook Polls:
Engagement is a two-way street. With Facebook Polls, we not only boost interactions but also gather invaluable insights directly from your audience. This real-time feedback informs us of our next moves, ensuring they're perfectly aligned with audience preferences.
3. Collaborative Partnerships for Reach:
Why work alone when you can collaborate? We strategize collaborative campaigns with complementary brands, and partnerships on Facebook, amplifying reach, and adding fresh perspectives to content.
4. Facebook Groups for Community Building:
A loyal community is a brand's best advocate. We help create and manage brand-centric Facebook Groups. Here, your most dedicated followers can connect, share experiences, and organically promote your brand ethos.
5. Facebook Event Boosting:
Events, whether virtual or physical, are a hub of engagement. We make the most of their potential by promoting them on Facebook, where the intended demographic is likely to see the ads and be willing to take part.
6. Post-Click Experiences for Higher Conversion:
A click is just the beginning. We optimize the post-click experience by delivering interesting content and easy navigation, pushing customers towards conversion.
How We Help
Companies Grow
Tecizeverything leverages Facebook Marketing as a cornerstone to develop robust brand-customer relationships in the digital age. Through curated content, precision targeting, and interactive campaigns, we ensure your brand stands tall in the crowded Digital Marketplace.
Frequently Asked Questions
Absolutely. While Facebook is renowned for B2C, its extensive user base offers golden opportunities for B2B brands too. Our strategies ensure that every campaign resonates, irrespective of the business model.
Video content has surged in popularity on Facebook, offering dynamic ways to engage audiences. Tecizeverything's expertise ensures that your brand harnesses this medium for maximum impact.
Certainly. Facebook can seamlessly dovetail with other marketing avenues, amplifying reach. Whether it's integrating with Instagram or cross-promoting with email campaigns, our holistic approach ensures synergy.
We required a powerful CRM system to centralize all of our customer information and standardize all of our business processes as we expanded. Tecizeverything CRM developers blew us away with their work. They created a CRM system from the ground up to meet our specific requirements as a company.
Tecizeverything has been crucial to modernizing our web presence and propelling our company forward. Their digital advertising approaches are original and highly efficient. They care about our company's success and work hard to learn about our needs.
I highly suggest Teciz everything's search engine optimization service. In a few of months, they were able to boost my website's visibility on search engines. Their staff has extensive understanding and stays current with SEO developments.
We're committed to staying prior and curve and we're fulfilling and developing new skills, and trends techniques to ensure amazing results for our clients.
Our highly skilled team accelerates innovation and creates new revenue streams, through our unique engagement method, you'll be informed at every step of the way.
We work at the highest standards to deliver the best results and create technology-backed business solutions for clients ensuring that they get the maximum value from their investment.